"Whoever fixed this chair needs to be banned from glue forever."
~ Joe Knight, Gayle's father
Upon examining Rich's repair work on a dining room chair
[Listen to Gayle reading the blog aloud.]
In the midst of unprecedented individual and global experiences, upheaval, pain and discord, I am sticking with amusement as a source of light. Coming to the end of 2020, and entering a new year, find your heart, access a breath of joy and let stillness and grace guide you forward.
The last words I hear before Rich leaves for the office are: "The worst that can happen is the drawer won't close all the way."
I am intently cleaning the old hard glue out of the Gorilla Glue bottle to save the last third. It's deeply satisfying to salvage the bottle, but the words "the worst that can happen" linger in my mind. I decide to examine the drawer repair.
OMG, glue dripping everywhere. Mounds of glue. Endless glue. So MUCH glue.
Luckily, my sweet furniture repair man has newspaper covering the rug to catch any drips. And boy, is the glue fulfilling its dripping job.
Meanwhile, my fingers and fingernails are themselves covered in Gorilla Glue. In my reverie of cleaning the old bottle, salvaging the "good glue," I ignored the feel of drying glue on my fingers. So, while the globs ooze out of the drawer crevices, and our cats Pearl and Ekajati curiously inspect Rich's work, I'm also googling "how do you clean Gorilla Glue off fingers?"
Nail polish remover from an ancient bottle seems to semi-work, but the cats are inches from the seeping glue. I plead with them. "Can you pleeeeease go away. I do not want to be shaving your fur when Gorilla Glue is stuck all over you!" They don't listen.
Rubber gloves now on my hands, I try scraping mounds of glue from the seams with a metal shish-kabob, because that's what shish-kabobs are for, right? That doesn't work, so I go for the screwdriver. And spill water from my water bottle everywhere.
Running to grab towels, my mind wanders to astrology. I thought Mercury Retrograde was over, so now what's up? A triune circle of conjunct planets dancing the cha-cha in the underworld?
It is a mess.
I have a choice.
Do I simmer in hot blame? Or do I nod my head, acknowledge that "this is what is," do what I can to fix the mess, and return to my regularly-planned morning?
I choose the latter.
You see, I value my relationship more than stuff.
The worst thing that could happen would be for me to get miffed and incite an argument with my beloved over a thing, an old piece of furniture.
Rich was not playing in his genius when he responded to the broken drawer with the glue. I know that furniture repair is not his genius; his willingness to fix something lingers from his childhood because no other men in his family of origin would assist in house repairs. He became the go-to guy for that work, even though he was not really good at it.
As a result, he equates his repairs with Norm from This Old House. Eat your heart out Norm! Check out Rich's handiwork: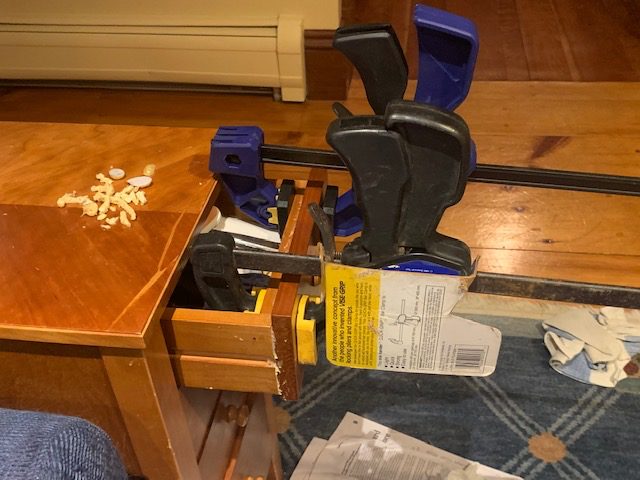 What are those Cheeto-looking things on the table, you ask? Those are the glue gobs I scraped off, my handy finishing work. Rich and I make quite a team! ☺
In truth, I have a few different ways to handle that drawer, stay in my values and learn some lessons. This time, I live with a messed-up drawer with lots of remnants of Gorilla Glue. We could have hired a person whose genius is woodworking and furniture repair. We could have given the furniture to someone else who would enjoy it and perhaps fix it themselves.
No matter which path I take, I choose to stay in wonder and amusement. Hey, if this year has taught me anything, it is that things I used to get serious about are Just. Not. That. Important.
From my direct experience, I offer these takeaways for your reflection.
Relationships are the richness of life. Choose people over stuff.
Stay in your wheelhouse of expertise to expand vitality and joy.
Enjoy hiring others to engage their genius on your behalf.
As 2020 comes to a close, may these blessings find you…
Reaping the teachings from this year's upheavals, disruptions and suffering.
Claiming your resilience, compassion and expanding awareness.
Inspired in fresh ways to show up as you are and know to the cockles of your heart that you are supremely sufficient.
With love for my repairman Rich,
for you reading this,
and for the possibilities waiting for all of us in 2021,

P.S. The drawer closes all the way! I trashed the Gorilla Glue. Ekajati still has glue bits on her tail.
---
Be Moved To Practice
Let's be inspired by nature, the brilliant sun shining indiscriminately everywhere, to every being and every place. Wonder with me:
hmmm, how can I shine my bright light,
just like the sun,
reflecting warmth,
care and attention to others?
As we move to a new year, another turn around the sun, may we collectively learn and embody the fluid powers of water, while we shine our genius just like the sun.
---
Deepening Practice
Dec 24, 2020
Hello Friend, welcome to our final blog and deepening practice for 2020. We are turning toward the light as the darkest day of the year, a most auspicious winter solstice, has passed. Below is a final one-minute water sit illuminating the light of the sun and deepening practice.

Following the one-minute water sit video, I introduce our 2021 Walk With Me series, a unique offering for solo and partner practice next year. In this video, you see me walking on a winter beach, my soul space, where I invite you to gain clarity about your soul space and join me for walking.

But first, let's go deeper into the light with December's Deepening One Minute Water Sit practice.
The Practice
Seeing the light rays of the sun on the ocean surface, recognize that just like the sun gives and receives, so do we. Our genius expression, the way we offer our work in the world, is a form of our light. We give our unique gifts and we receive appreciation for offering our gifts. This giving and receiving is always available if we choose to experience it.

In this gift-giving season, let this video inspire unconditional giving and receiving.

Imagine the sun represents each of us sharing our natural gifts of light.
Feel where your gifts express themselves in your body.
Then, with your body awareness,
Reflect and recognize your natural gifts and how you express them.
Notice how and when others benefit from your gifts.
Reflect and recognize the gifts from others.
Notice how these gifts from others benefit you.
Complete your practice by recognizing and experiencing – giving and receiving.
---
Walk With Me
Welcome! Walk with me! I'm delighted to be here with you. Reflecting on this short video, wonder about your soul space. Where do you feel the most alive, energized and whole? In this introductory video you see the beach and learn about my soul space. Your soul space can be anywhere your qualities of vibrancy and wholeness are amplified.

Please join me next year on a new venture – walking with me – in short videos. Between now and January, begin to claim your soul space. We will learn more about the qualities of soul space and why it is important. But first, claim and practice in the space that nourishes your body without effort. Where does your breath naturally slow down and you feel calm? Where does your body feel naturally energized and ready for action? The sense of calm and energy are qualities of soul space. We'll learn and practice together about soul space, and a whole lot more, walking together in 2021.
Until then, may your holiday celebrations be filled with heart, and may the welcome to 2021 be filled with hope.
Oceans of joy and generativity,