08/08/2019
Six months ago, a dear friend who lives thousands of miles away, a gifted potter who began her passion later in life, sent me two gorgeous pieces. The five-inch green square and three-inch blue rectangle sat on my desk receiving my admiration. One day last month in a hectic frenzy they fell to the ground. The five-inch square broke into three pieces.
I can fix this. I moved the ceramic to another table for repair… when I had more time.
Today, after confirming plans to connect with my potter friend, it was time. Gorilla glue, rubber bands, wet paper towel, dry rag and toothpicks—the damaged tray and I consummated the repair. The work was not hard, but the result was not pretty. In a focused but "need to get done" state of mind, the repair broke apart—three pieces became five.
Though not headed in the direction I intended, the phrase, it's not perfect, but it will be better came to mind. I glued unskillfully. I did not pay close attention to how the ceramic pieces fit together, and the last two broken parts did not fit in the tray. No problem. Let me glue this together with my creative juices, and with my new teaching: it is not perfect, but it will be better. And it is. The tray is glued back together. Not perfect, but better. (See below for a capture of my creative expression.)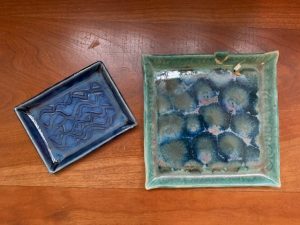 All too often, our efforts seek perfection. Our brilliant minds create ideas about what we want, and that want gets amplified with a concept of perfection— often unrealistic perfection. Perfection misses delicious sideroads, off-the-trail surprises, and spontaneous potentials. Perfection grasps. Perfection clings. Perfection excludes. Perfection exhausts.
Sometimes, all the situation requires is better. Better offers us a way in, a deeper breath, a warm space. Better is better. Better allows us elbow room and with that openness comes perspective. The work of money is a perfect place, pun intended, to explore the idea of not perfect, but better.
Let's move in with a metaphor. What happens if we view the mountain top as perfection? What happens to the ascent and descent of the climbing experience? How long can we stay at the top of the mountain and survive boredom, hunger, weather? Often in our money journey we seek a top (usually retirement) attached to a number. We might miss the ascent—spending on current life experiences, saving for the future, and giving generously. In the process of accumulating and navigating money flow and growth, we might miss our "better."
You may recall the well-known phrase and teaching called, the myth of arrival. This idea of perfection will be experienced when this _________ (fill in the blank) manifests. At the top may occur the myth of arrival experience, and the glow of achievement begins to fade. This is perfect! I can see for miles and miles, from here to eternity—the horizon beckons me! And then, just like that, we begin a descent. We fail to recognize that on the descent – spending, saving and giving are the same activities held with fresh eyes. Is climbing down a mountain a problem?
With better, when we know that we cannot make a mistake, we gain access to better decisions. Most harmful decisions come from the belief that there is only one right answer. Right answers close down curious possibilities. When we finally make a decision with a "right answer," the ability to change is near impossible because we were seeking the perfection of that one right answer.
Now, as this missive comes to a close, consider better in an open curious way. Consider how better might be best. Consider what possibilities might emerge in decisions when we soften the grip of "right" in service of … restorative, rejuvenating, replenishing, revitalizing, revolutionary, reverent.
My repaired ceramic mishap does not appear perfect, but it is definitely better than broken or discarded. And I love it!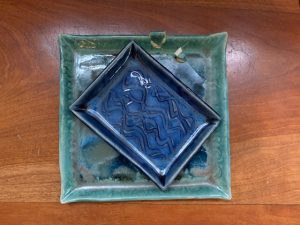 Bettering life,