Listen to Gayle reading the blog aloud.
Hello dear You,
How's the start of your 2022?
Have you set intentions? Made New Year's resolutions? Reviewed the past year? Cleared your in-box to zero? Finished the cha cha, a do-si-do, and a yippee ki-yay?
Or have you deleted the emails and let the rituals lapse?
Truly, that's ok. I even encourage it, even though I emailed you a Tiny Practice last month!
I am taking a slow ride moving into this year. I. Am. Really. Slowing. Down. A slow pace gives me unique and potent staying power to sort through the "stuff" flowing my way, with my heart leading toward truth and clarity, for me.
My heart just wants rest.
My heart gently whispers… Gayle, what feels sufficient, to you?
I offer this whisper to you.
Why does Sufficiency claim my attention and affection so often?
Because Sufficiency is a portal for deep restoration and transformation, a way to see what matters most and, of course, how money interplays with our views.

Sufficiency is a way of life that fosters freedom, giving generous space to connect present reality with our stories of the past and the vision for the future. It is a "now" experience where we truly recognize and embody our enoughness.
Few of us have mastered sufficiency. Fear of not-enough is a primal reaction.
Our brain goes to the future trying to assess how all of the financial responsibilities until our last breath will be met: I'll never make/save/create enough. Our brain goes to the past trying to sooth our wounds and fix "mistakes" never to repeat them: I messed up and was not capable. I'll never let this happen again or I'll never get over my past regrets/shame/despair.
None of these responses use the somatic intelligence of our body.
My friends, understanding the truth of sufficiency this way is important. Even more important is practicing with your direct experiences, welcoming and receiving all of your intelligence.
What's my recent Sufficiency practice? Our holiday family travel to Ecuador.
Our grown children and their partners traveled with me and my spouse on a long-anticipated trip to the Galapagos. Our encounters and experiences seemed to stream and scream in neon lights: Sufficiency.
Did we cram every and all possible excursions into our days, afternoons and nights? Or, did we pause and rest in between outings, even if we missed a treasured monument, meal, or more?
We did both, until we struck a moving balance between activity and stillness.
Feeling ecstasy and joy and grief and fevers, each of us received and experienced body wisdom in the form of emotional, mental, and physical responses.
The trip itself showed us Sufficiency.
One night, as we watched a beach sunset on Isabella Island, our guide Manuel shared that real estate developers regularly offer the local landowners millions of dollars to purchase their home for conversion to vacation resorts.
Not one landowner sells. Worth more than money is Sufficiency.
It looks like a beautiful, rich, complete, and sufficient life, full of fresh food, clean air, nature's abundance, heart connections, neighbors who answer their door when the telephone doesn't work.
Living the realization of our interconnected web of life.
This community and its people do not enjoy financial abundance, yet they experience a wealthy life inhabiting a third-world country — by living in Sufficiency.
I like to believe I've got a strong handle on Sufficiency. Then I come face to face, heart to heart, body to body with folks who demonstrate how far I have to go, and how far many of us in the developed world do too.
But, with each encounter of pure exquisite refined Sufficiency, the gap narrows.
Our breath models sufficiency.
Our belly senses sufficiency.
Our body shows us sufficiency.
The people of Isabella Island have mastered sufficiency.
We saw it in our driver, a descendant of one of the first three families to inhabit the island. He dedicates 12-hour days hunting on horseback and eradicating wild boars that are destroying the balance of nature. His ancestors brought them to the island generations ago; he feels a moral duty to clean up the mess his ancestors wrought so this world may exist for his descendants.
We tasted it in the sweet tangy passion fruit juice each morning at breakfast. Passion fruit, a rare and expensive treat in New England, is plentiful in the tropical climate.
We relished it in the animal life—the sea lions and iguanas—sprawled out on the docks, sidewalks, and benches soaking in warmth from the sun and being the object of our photographic affection. Admired and not abused, these creatures are fearless, enjoying the landscape while natives and visitors feel sufficient observing and appreciating without the need for more.
With my heart whisper, what is sufficient now, moving through your mind, let's close with a sunset—a rich beautiful sufficient and reliable present from nature.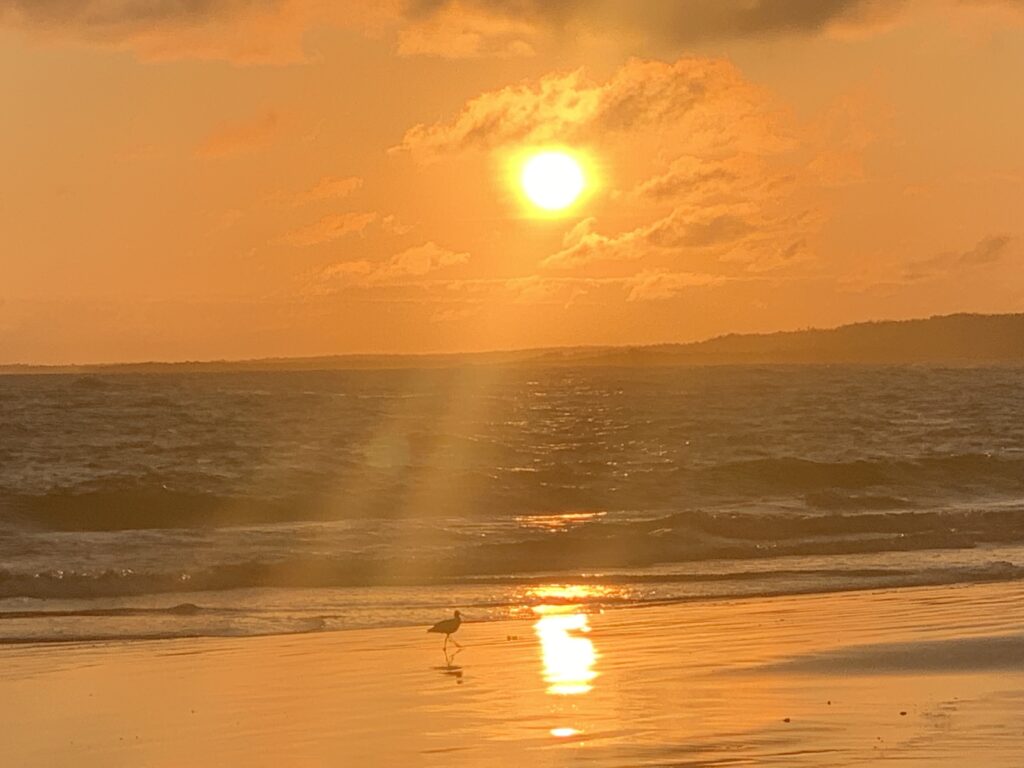 Oceans of joy, and sufficiency,

---
Tiny Body Practice
Peaceful Aliveness
After our family Galapagos travels, Rich and I enjoyed a couple's adventure in the Cloud Forest of Mindo Valley. Hiking back from one of our morning treks, I lingered taking photos as the rain softly fell. It was so very peaceful, and I felt so very alive.
You came to mind and I recorded this practice – Peaceful Aliveness – just for you.
It may seem odd to combine peaceful and aliveness, kind of like stillness and movement, how does that happen? Both co-exist and we recognize it when we access our whole-body intelligence. While walking peacefully, aliveness was my experience. My body vibrated and tingled with aliveness as peace filled my heart, the forest, the road, the invisible wild life hiding in the trees.
In what spaces and places do you feel peaceful and alive?
Where can you imagine peace and aliveness exist for you?
Take yourself to that place in your mind's eye (or in physical reality).
Come close inside your body.
Feel the presence of peace.
Feel the presence of aliveness.
Recognize peaceful aliveness for you. And practice it often for your nourishment, well-being and skillful responses to challenging moments.
---
Deepening Practice
Peaceful Aliveness
by Gayle | Jan 27, 2022
Hello my beautiful friend,
With the recent passing of the beloved Vietnamese monk and peace activist, Thich Nhat Hanh, my morning meditations have been dedicated to peace-and the peace he embodied as he generating the same for all of us, worldwide. Peaceful Aliveness is a tiny practice that touches the tender and sweet peace essence he brought to us so generously. While I never studied with Thich Nhat Hanh, called Thay by his devoted students, I read his books, engaged his meditations and listened to the myriad videos harnessing his peaceful presence.
In his honor may we practice peace.
On our journey may we seek peace.
For the benefit of all beings may we embody peace.
---
Tiny Body Practice

Peaceful Aliveness
Practice Preparation:
Peaceful aliveness or peacefully alive – state out loud:
I recognize in my direct experience that peace is very alive and awake, not empty or expressionless.
Peace permeates my senses with loving energy and calms my agitated mind.
The Practice:
Set an intention to embody peace and generate peace.
Choose to sit or walk.
Listen to the audio, Peaceful Aliveness.
Stay seated or walking peacefully abiding in your heart for as long as you desire.
Notice what it feels like to be peacefully alive.
Notice the temperature of your skin.
Notice the rhythm of your breath.
Notice the colors, designs and textures in your gaze.
Notice the aliveness of peaceful energy.
Let the snapshots of your experience be a body imprint.
Repeat these declarations:
I recognize in my direct experience that peace is very alive and awake, not empty or expressionless.
Peace permeates my senses with loving energy and calms my agitated mind.
Post Practice
Commit (and recommit) to expand your capacity to give and receive peace.
Return to the entire felt sense of your body and the peacefully alive body imprint.
Feel peaceful aliveness and intensify this energy for one minute.
Coming into your heart space, expand peaceful aliveness to another person, situation, community, (or any place or space) hurting for peace.
Send these word waves: May peace permeate you with loving energy and calm your agitated mind.