Hello my friends,
In the United States, we're about to celebrate Thanksgiving. Like many, I'm mixed about this holiday. It's rooted in violence and deep suffering, but when I was a child, it was my absolute favorite. Our Thanksgiving Day meal was generative in sensory delights – the fall colors decorating the dining table, the comfort food of turkey, dressing, sweet potato casserole, green beans, the conversation, the company.
As I finalize this year's Thanksgiving plans, one potent memory flashes:
I'm in my mother's kitchen before seven in the morning. My spouse and I flew down to Florida that day to be with my elderly parents, who love hosting family holiday meals. But since the preparation of the meal is too difficult for them, the entire Thanksgiving spread has been outsourced to other guests attending the dinner at my parents' home just after noon.
I'm up way too early given the paltry list of remaining preparations. All we have on our plate, pun intended, is to set the table, which we did last night, and put condiments together.
So I am in the kitchen, watching my sweet forgetful mother shuffle around the kitchen, and I ask, "what is left for us to do?"
She produces four, similar-sized, bright autumn-colored ceramic dishes. Then she shows me four butters: regular butter, apple butter, garlic butter, truffle butter.
She tells me to put the different butters in each dish and they should all look the same.
I begin to cut up chunks of semi-softened butter and mash it in one of the decorative bowls, careful not to break it. After the third butter, the garlic butter, she intensifies her instructions on how to improve my creation.
"They all need to look alike," she says.
I ask her another question. "Are you willing to have fun, or does this need to be perfect?"
Mind you, it is now eight in the morning, and I have spent the last hour watching her mutter around the kitchen, moving air. A snappy Are you nuts? is what I really want to say.
My mother, shocked out of her teaching mode, pauses.
She thinks carefully about my question. And then she responds.
"This has to be perfect."
Her answer, surprising me but not, confirms a watershed of kitchen experiences from my youth. I laugh.
A bounty of healing loving-kindness swells, and I say, "Well, this explains a lot!"
As I mash, smooth, and sing to the butter, coaxing each bowl into beautiful similar forms, my oldest brother walks into the kitchen and proclaims that I need to assist my mother with her "long list of chores."
Do more. Get it right. Perform perfectly.
These insistent voices show up at holiday meal preparations — and they show up for money, too. If don't get it right, if I don't do more, my worst fears occur.
Is that true?
In some cases, we feel that way. Because yes, financial markets plummet, inflation jumps, food, gas and rents rise, and money is tight. Our expectations are twisted in a knot of fear disguised as perfection. If we are perfect, what we expect will manifest and what we fear will not.
The world is not what it was—not perfect by perfectionist standards—and neither are you. What if we had a new way of seeing and going?
Have you ever asked yourself, during money angst, "am I willing to have fun, or does this need to be perfect?"
What would that look like for you? How would you shift from perfection to fun?
It is not sufficient to say, no I don't need perfection. It is also important to choose what you want. With a clear alternative, fun, for example, your mind and actions have a direction to move toward. That energy is magnetizing.
Fun can be anything. It could be four different butters in four dishes. It's up to you.
As the end of 2022 fast approaches and we jump the threshold to 2023, let's release all ideas of perfection that frequently arise this time of year. Let's embrace fun (joy, love, sufficiency, peace, you choose), and by Goddess, please include money in your fun choices.
Encouraging the fun coalition,

P.S. Did you get the memo about my debut book, The Body of Money? It is ready for pre-order (link below) and a perfect ☺ post-holiday read in the new year!
THANK YOU! THANK YOU! THANK YOU!
P.S.S Come join me on December 7th for a complimentary one-hour Big Leap Bridge class to explore Sufficiency, a potent principle and gateway to money freedom. Click HERE to register! I look forward to having fun together! ☺
---
Tiny Body Practice
What's Fun?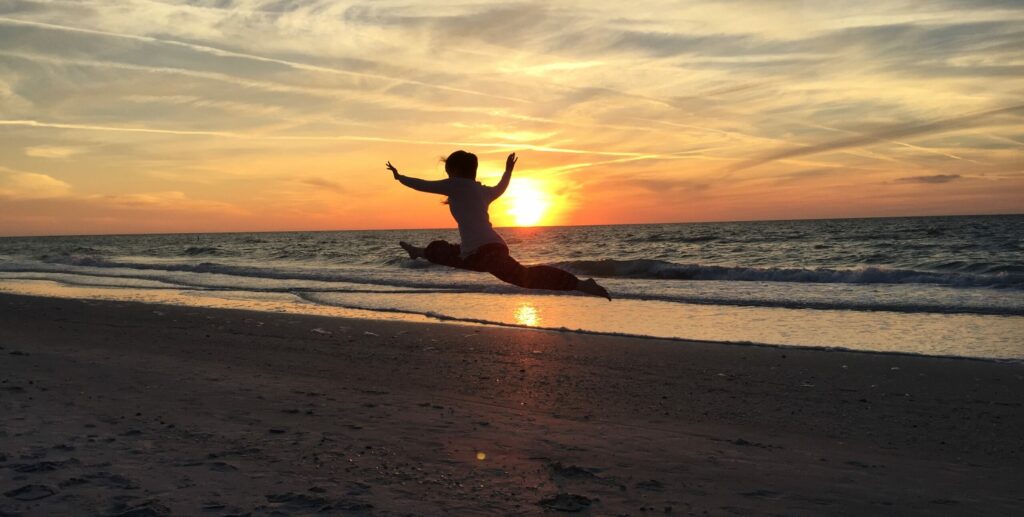 Sometimes fun is hard. We feel slammed against the wall – have fun! It's body tightening, suffocating, and rigid-anything but fun. What if I really don't know how to have fun? That's okay. Truly. Take a breath, take a beat. In this Tiny Practice, there is no pressure to have fun. Grab my hand and let's gently stroll.
Preparation:
Along with my hand, grab a pen and paper. We are going to generate a list of fun experiences. This activity is a form of research and there is no perfection or pressure.
The Practice
Come into your body and give attention to your breath.
Bring your breath down into your belly, gently expanding and contracting.
Allow your exhale to be longer than your inhale.
Inhale to the count of 7.
Exhale to the count of 13.
Bring your attention from your belly to include your heart.
Breathe your own rhythm.
Feel your spine elongate
With your attention centered in your heart, retrieve your witting tools.
Let's have fun, identifying our fun!
Writing prompts for past and present will generate answers.
Let's begin, in the past…
These activities brought me joy (aliveness, laughter, good feels)
[Take a minute to respond.]
I was located…
[Take a minute to respond.]
I was accompanied by…
[Take a minute to respond.]
Today,
These activities bring me joy.
[Take a minute to respond.]
I am located…
[Take a minute to respond.]
I am accompanied by…
[Take a minute to respond.]
Post Practice
Review your list of answers and expand upon them with the following questions.
What activities bring you joy? Where does aliveness, laughter, good feeling expand?
Where are you located? Is there a pattern or theme? (Nature, Body Movement, Person)
Who, if anyone, is in your company? What is your social stance? (few friends, many, solo)
Choose one or two fun activities and schedule them in your calendar.
---